A Godward Life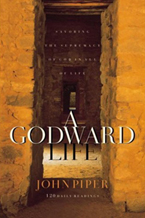 Overview
This collection of 120 brief meditations concentrates on savoring the supremacy of God in all of life. The Bible exhorts us to glorify God in whatever we do, "whether we eat or drink" (1 Corinthians 10:31). This implies that nothing is insignificant to God. But to think and do everything in a way that makes God supreme is radical living. These daily meditations encompass many topics—from intensely personal concerns to vital public and cultural issues—yet all are deeply rooted in the scriptures. They are intended to help you place God fully at the center of every thought, every action, every choice, every love: at the center of all that you are and all that you do.
Product Details
Title: A Godward Life
Author: John Piper
Publisher: Multnomah Publishers
Publication Date: 1997
Reviews
What other people are saying about A Godward Life.