Taste and See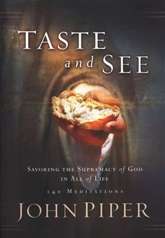 Overview
This resource replaces A Godward Life: Book Two and adds twenty fresh entries to the original 120 daily meditations, broaching current and controversial subject matter, such as partial-birth abortion and gay marriage. Piper finds poignant, practical truths from the Bible regarding many of the difficult questions facing Christians today. These pages of substantive spiritual nourishment will brace readers' minds with truth and nourish their hearts with God's sovereign grace. Pastors and lay leaders will find the indexes included in this revision very helpful. Piper's offering of 140 carefully crafted meditations will satisfy your spiritual hunger pangs, whetting your appetite for more of God Himself. These meditations are designed to refresh you in your daily communion time with Christ. R. Albert Mohler, Jr., president of Southern Baptist Theological Seminary, tells us, "This volume is a treasure of true doctrine applied to life." "Going to sleep with John Piper's words on your mind will coax you from complacency and wake you up to a passionate faith," says Phil Callaway, speaker and bestselling author.
Product Details
Title: Taste and See
Author: John Piper
Publisher: Multnomah
Publication Date: 2005
Reviews
What other people are saying about Taste and See.