Wiersbe's Expository Outlines on the New Testament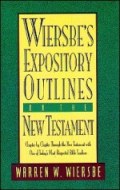 Overview
The purpose of this book is to take you through the New Testament and give you the opportunity to study each book and its strategic chapters to learn how they fit into the total revelation God has given us of Christ and His redemptive work. The studies are concise and general and are especially suitable for Sunday School classes and Bible study groups that want to examine God's Word in a systematic manner.
Logos Bible Software dramatically improves the value of this resource by enabling you to find what you're looking for with unparalleled speed and precision. Scripture passages link to your favorite translation and you can easily study it side-by-side with the other commentaries in your digital library. This makes the text more powerful and easier to access than ever before for scholarly work or personal study.
Product Details
Title: Wiersbe's Expository Outlines on the New Testament
Author: Warren W. Wiersbe
Publisher: Victor Books
Publication Date: 1996
Pages: 864
Reviews
What other people are saying about Wiersbe's Expository Outlines on the New Testament.