Homer A. Kent Jr. Collection (9 vols.)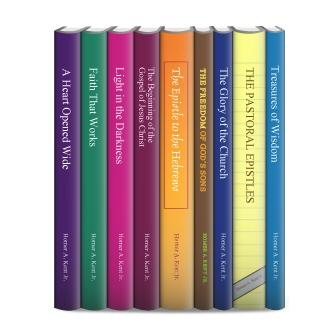 Overview
Dive into the New Testament with Homer A. Kent Jr.'s clear and practical commentary. Professor emeritus of New Testament and Greek at Grace Theological Seminary, Kent draws from his 50 years of teaching and speaking experience to effectively communicate the messages of 12 New Testament books, including James, Galatians, Ephesians, and the Gospels of Mark and John. Find accessible exposition of each text, preceded by concise introductions that help establish the context of each book. Many of these studies also include helpful photos and charts, as well as discussion questions for each chapter, making them perfect for group or personal study. Scholarly, yet not overly technical, Kent's commentaries are designed as a useful Bible study aid for everyday Christians as well as small group leaders and pastors.
With Logos, these volumes are enhanced with cutting-edge research tools. Scripture links directly to English translations, while important terms link to dictionaries, encyclopedias, and a wealth of other resources in your digital library. Powerful topical searches help you find exactly what you're looking for. With Logos Bible Software, the most efficient and comprehensive research tools are in one place, so you get the most out of your study.
Key Features
Commentary on 12 New Testament books from Grace Theological Seminary professor, Homer A. Kent Jr.
Clear, section-by-section exposition in accessible language
Discussion questions for group study
About Homer A. Kent Jr.
Homer A. Kent Jr. taught for 50 years at Grace Theological Seminary and Grace College in Winona Lake, Indiana. He retired as president emeritus and professor emeritus of New Testament and Greek. He has lectured throughout the U.S. as well as in France, Hungary, and the Central African Republic. He was educated at Grace Theological Seminary, where he earned his MDiv, ThM, and ThD. He has written extensively, including commentaries on 15 New Testament books.
Reviews
What other people are saying about Homer A. Kent Jr. Collection (9 vols.).