Baker Islam and Christianity Collection (4 vols.)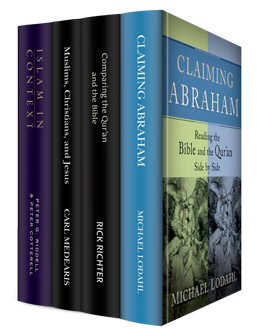 Overview
In a modern world which constantly waters down the power of the gospel, one of the greatest challenges facing Christians is differentiating their faith from other religions. The two largest religions in the world, Christianity and Islam, are often either lumped together or completely polarized. The Baker Islam and Christianity Collection brings together the latest scholarship on Christian-Islamic studies to provide clear distinctions between the two dynamic faiths, as well as show the ways in which these two religions intersect. With a mixture of easily accessible introductions to Islamic-Christian relationships and thorough side-by-side comparisons of the Qur'an and the Bible, this collection has a lot to offer seasoned Islamic scholars as well as those unfamiliar with Islam. These texts are written by Islamic scholars and missionaries, written from a heart of love and admiration for Muslims and their faith while maintaining a focus on the truth of the Gospel. The information found in this collection will help Christians learn how to have spiritual conversations with their Muslim friends, neighbors, coworkers, and relatives, and have the tools to discuss the love and divinity of Jesus in the context of the Islamic faith.
With the Logos edition of the Baker Islam and Christianity Collection, these volumes are enhanced by valuable features. Scripture and ancient-text citations link directly to English translations and original-language texts, and important terms link to dictionaries, encyclopedias, and a wealth of other resources in your digital library. Cross-reference them and study these volumes side-by-side to compare their analyses of ancient source texts. Perform powerful searches with the Topic Guide to instantly gather relevant biblical texts and resources, enabling you to jump into the conversation with the foremost scholars on Islam and Muslim outreach. Tablet and mobile apps let you take the discussion with you. With Logos Bible Software, the most efficient and comprehensive research tools are in one place, so you get the most out of your study.
Key Features
Offers informative explorations of Islam from a Christian perspective
Includes direct comparisons of the Qur'an, the Bible, and other religious source texts
Provides helpful discussions of what it looks like to live side-by-side with Muslims
Reviews
What other people are saying about Baker Islam and Christianity Collection (4 vols.).