Ancient Faith Biblical & Theological Studies Bundle (33 vols.)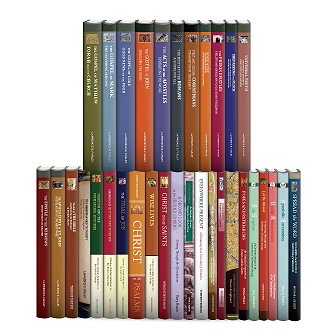 Ancient Faith Publishing
, 1995–2013

Overview
The Ancient Faith Biblical & Theological Studies Bundle contains 33 volumes of Orthodox Christian texts written to enhance your biblical and theological studies and deepen your understanding of the Orthodox Church. The bundle is comprised of three collections:
Delve into the Old Testament, ancient Hebrew texts, and books of the original Bible with the latest in Orthodox scholarship to discover often overlooked Christian truths. Study the books of the New Testament and work with literal translations of the Greek to interpret the original meanings of Scripture. Examine Orthodoxy side-by-side with Catholicism and Western Christianity using direct comparisons, frequently asked questions, and theological studies from texts exclusively offered in this special Logos collection. Whatever your denomination, the Ancient Faith Biblical & Theological Studies Bundle contains the tools you need to expand your personal study as well as grow in your understanding of Orthodoxy.
With the Logos edition of the Ancient Faith Biblical & Theological Studies Bundle, these powerful reference tools automatically integrate with your Logos library, allowing you to cross-reference them and study Orthodoxy like never before. Pull these accessible texts up side-by-side with other theological experts in your library to see what other denominations have to say. Important terms, figures, and dates link to dictionaries, encyclopedias, the timeline, and a wealth of other resources in your digital library. Logos mobile apps let you bring the discussion with you. With Logos Bible Software, the most efficient and comprehensive research tools are in one place so you get the most out of your study.
Key Features
Offers concise explanations of the distinctions of the Orthodox Church
Provides comparisons between Orthodox, Catholic, and Western Christian denominations
Includes a balance of devotional and exegetical biblical commentary
Contains Old Testament and New Testament studies that bring Scripture into contemporary context
Product Details
Individual Titles
Reviews
What other people are saying about Ancient Faith Biblical & Theological Studies Bundle (33 vols.).