Dubliners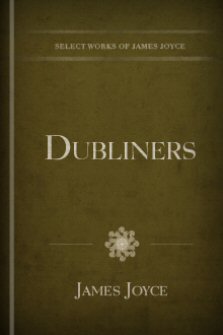 Overview
Dubliners, Joyce's second work, is a collection of 15 short stories. Written during the peak of the Irish nationalist movement, the stories center on characters from the middle class of Dublin in the early 1900s. In this book, Joyce introduced the idea of an epiphany (appearing), when a character has an extreme self-revelatory moment that leaves them forever changed. The stories begin with children as narrators and slowly move through adolescence into maturity.
The digital edition of Joyce's works is fully indexed and tagged, allowing for near-instant search results. Use the dictionary lookup tool to dig deeper in to Joyce's novel use of English words. The books are linked with the rest of your library.
Key Features
Portrays characters from the middle class of Dublin in the 1900s
Includes one of Joyce's most celebrated short works, "The Dead"
Helped define the Modernist literature movement
Contents
The Sisters
An Encounter
Araby
Eveline
After the Race
Two Gallants
The Boarding House
A Little Cloud
Counterparts
Clay
A Painful Case
Ivy Day in the Committee Room
A Mother
Grace
The Dead
About James Joyce
James Joyce (1882–1941) was born in Dublin. He received his early education at two Jesuit schools, Clongowes and Belvedere. In 1898, he enrolled in University College in Dublin, where he studied English, French, and Latin, graduating in 1902. While at university, Joyce was involved in the theater and literary movements in the city. Following graduation, Joyce moved to Paris to study medicine. When the French lectures proved too difficult to follow, Joyce dropped out and returned to Dublin. Following his mother's death in 1904, Joyce moved to Zurich and then to Trieste (at the time in Austra-Hungary), where he was a school teacher for 10 years. On the eve of WWI, Joyce moved back to Zurich, where he gained a patron whose support allowed him to focus on writing instead of teaching. In 1920, Joyce moved to Paris until 1940, when he returned to Zurich to escape the Nazis. He died in 1941 after surgery for a perforated colon.
Reviews
What other people are saying about Dubliners.