The Righteousness of Faith according to Luther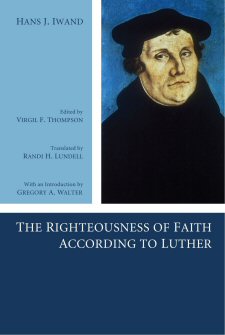 Overview
Hans Joachim Iwand's 1941 monograph, The Righteousness of Faith According to Luther, is an important contribution to contemporary appreciation of Luther's theological significance. Although Iwand wrote his study three decades after the beginning of the Luther Renaissance, it nevertheless developed some of the central insights of Luther scholarship during that period. Two concepts—in particular, promise and simultaneity—are crucial to an appreciative understanding of Luther's doctrine of justification. The language of promise presents justification to the believer as a reality that has yet to arrive or is hidden under present reality. And the language of simultaneity attests that humans remain throughout their lives one in the same, sinner and saint. This beautiful translation by Randi H. Lundell makes Iwand's down-to-earth presentation of the doctrine at the heart of Luther's theology, at long last, available to English-language readers.
The Logos edition of this volume is designed to encourage and stimulate your study. This fully indexed text enables near-instant search results for words, people, places, and ideas, while Scripture references appear on mouseover in your preferred translation. Find what other authors, scholars, and theologians have to say about Luther, the Protestant Reformation, Christian liberty, and much more. With the most efficient and comprehensive research tools all in one place, you can expand your study with just a few clicks. And with Logos tablet and mobile apps, you can take your study wherever you go.
Key Features
Develops some of the main points in early Lutheran Renaissance studies
Focuses on the concepts of promise and simultaneity
Presents analysis from one of the greatest twentieth century Lutheran theologians
Contents
Giving God Justice
Law and Gospel
Faith and Works
Righteousness
Praise for the Print Edition
Though not as celebrated, Hans Joachim Iwand was once described as the greatest Lutheran theologian of the twentieth century. A close friend of Karl Barth's, Iwand tested his heritage in the fires of Barth's critique. This tempering is evident in seminal work on Luther's doctrine of justification by faith and the distinction of law and gospel. I heartily recommend this volume as a starting point in studying Iwand and hope that it is the beginning of a new interest in his legacy.
—James Nestingen, professor emeritus of church history, Luther Seminary
The appearance of this book in English is long overdue. Prior to the appearance of these essays in Lutheran Quarterly, little of Iwand had been translated into English and he was largely unknown in North America except, perhaps, from his influence on the thinking of Gerhard Forde. Hans Joachim Iwand's theological career was forged by an early and ongoing critical engagement with Barth, the necessity of confessional witness in the face of Hitler, and by a profound grasp of the heart of Luther's theology. Like Luther, Iwand's theological work is geared toward the proclamation of the righteousness of faith found only in Christ Jesus. Thus, the fundamental and critical distinction for theology is the distinction between the law and the gospel. Here Iwand is radically and refreshingly Lutheran in a way that deconstructs moralisms of the left and the right so that Christ alone is preached as the end of the law for all who believe. The Righteousness of Faith According to Luther is more than just another historical study of a Reformation theme; it is a vigorous exercise in pastoral dogmatics. Iwand teases out the nuances in Luther's distinction of the law from the gospel with provocative insights on nearly every page. This is a volume not simply for Reformation scholars but for seminarians, pastors and thoughtful laity. I look forward to using it in the classroom and beyond.
—John T. Pless, assistant professor of pastoral ministry and Missions, director of field education, Concordia Theological Seminary, Fort Wayne, IN
About Hans J. Iwand
Hans J. Iwand (1899–1960), professor of theology at Gottingen and Bonn, was a prominent scholar of the Luther Renaissance. He made important contributions to the contemporary understanding of Luther's significance to theology today.
Reviews
What other people are saying about The Righteousness of Faith according to Luther.