How to Preach without Notes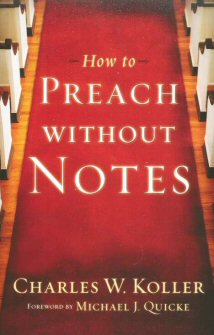 Overview
Effective speaking is key in reaching people with the Gospel and growing our churches. And delivering powerful messages without being tied to manuscripts, outlines, or notes is the key to effective speaking. A classic that has stood the test of time, How to Preach without Notes shows you how to do just that.
Among the topics discussed are the biblical conception of preaching, the advantages of preaching without notes, homiletical devices, the importance of structure, and the systematic filing of materials. For almost 50 years, pastors and seminary students have benefited from the principles found in this book. Now you can too.
The Logos edition of this work on preaching is fully searchable and easily accessible. Scripture passages link directly to your English translations and to the original language texts, and important theological concepts link to dictionaries, encyclopedias, and the wealth of resources in your digital library.
Key Features
Teaches how to preach without relying on notes
Explores biblical portrayals of preaching
Includes sermons as examples of structure and style
Contents
Expository Preaching without Notes

The Scriptural Conception of Preaching
The Patterns of Scripture Presentation
The Primacy of Expository Preaching
The Advantages of Preaching without Notes
The Importance of Structure
The Sources of Preaching Material
The Homiletical Devices
The Steps in Preparing an Expository Sermon
The Preliminary (Factual) Data
The Analysis of the Scripture Passage
The Heart of the Sermon
The Structural Components of the Sermon
The Way to Note-Free Preaching
The Way to Perennial Freshness
The Essentials of an Effective Preaching Service
The Basic Appeals in Biblical Preaching
The Minister's Vocabulary
The Systematic Filing of Materials

Sermons Preached without Notes

"Topical" Sermons
"Textual" Sermons
"Expository" Sermons
About Charles W. Koller
Charles W. Koller taught ministerial students at Northern Seminary for more than 20 years, in addition to serving as its president. An influential preacher and a popular conference speaker, Koller earned his ThD from Southwestern Baptist Theological Seminary.
Reviews
What other people are saying about How to Preach without Notes.