Scaling the Secular City: A Defense of Christianity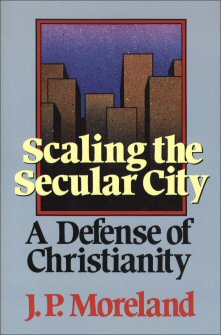 Overview
This volume presents up-to-date arguments for God's existence and for Jesus' deity and resurrection, answers to objections to Christian theism, and discussions of four key issues.
The Logos edition of this work on preaching is fully searchable and easily accessible. Scripture passages link directly to your English translations and to the original language texts, and important theological concepts link to dictionaries, encyclopedias, and the wealth of resources in your digital library.
Key Features
Addresses contemporary philosophical issues
Defends the Christian faith, Jesus' resurrection, and Scripture's inerrancy
Examines various arguments in support of Christianity
Contents
The Cosmological Argument
The Design Argument
God and the Argument from Mind
God and the Meaning of Life
The Historicity of the New Testament
The Resurrection of Jesus
Science and Christianity
Four Final Issues
Praise for the Print Edition
No evangelical now writing on apologetics surpasses Moreland in philosophical ability. Every person who intends to speak for Christ to the contemporary mind should master the content and spirit of this book.
—Dallas Willard, professor of philosophy, The University of Southern California
Scaling the Secular City is the most sophisticated apologetics book I have read. It lays out the issues, arguments, and counterarguments in a thorough way. Moreland's special strength lies in philosophy of science, and the book makes a real advance in the interface between Christianity and science.
—William Lane Craig, research professor of philosophy, Talbot School of Theology
[This] is not just another apologetics book. This is a fresh, up-to-date defense of the Christian faith by a bright mind. J.P. Moreland musters new arguments, tackles new problems, and reveals penetrating insight. . . . His insights into the contemporary philosophical issues make him one of the ablest young apologists in America.
—Norman L. Geisler, cofounder, Southern Evangelical Seminary
Product Details
About J.P. Moreland
J.P. Moreland is a distinguished professor of philosophy at Talbot School of Theology. He has authored or coauthored many books, including Love Your God with All Your Mind and Immortality: The Other Side of Death.
Reviews
What other people are saying about Scaling the Secular City: A Defense of Christianity.