For the Beauty of the Earth: A Christian Vision for Creation Care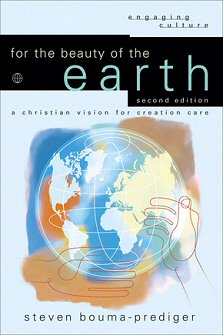 Overview
There is an ever-increasing interest among Christians in caring for the environment. In the second edition of his highly acclaimed book, Steven Bouma-Prediger provides the most thorough evangelical treatment available on a theology of creation care. Arguing that authentic Christian faith requires ecological obedience, he urges Christians to acknowledge their responsibility and privilege as stewards of the earth. This edition has been substantially revised and updated with the latest scientific and environmental research.
Whether you're a pastor, student, or layperson, this volume will enhance your understanding of the relationship between theology and culture. All Scripture passages link to your favorite Bible translation in your library. You can perform powerful searches by topic and find what other authors, pastors, and theologians have to say, making Logos eBooks ideal for studying contemporary culture.
Praise for the Print Edition
The goal of this book is simply stated: to inform and persuade. Behind the information and persuasion, however, is a complex call to ecological responsibility. . . . The final chapters present a convincing argument for Christians to engage deeply with the world they inhabit, a virtue that marks authentic faith. Taking this text seriously is bound to infuse our corporate worship practices and our individual lifestyles. Moreover, it is bound to hold all Christians accountable for actively joining the dialogue between ecology and theology.
—Worship Leader
For the Beauty of the Earth [is the] second edition of a well-respected work from 2001, when creation care was not to any great extent on the evangelical radar. . . . Bouma-Prediger brings together well-researched biblical study and solid ecological, philosophical, and poetic material. . . . Accessibly and engagingly, he outlines an ecological state of the union and then surveys a biblical view of ecology. . . . He faithfully treats texts in light of the larger biblical narrative and the cultures in which they were written.
—Christianity Today
[This book] is obviously the fruit of excellent classroom experience and solid scholarship. . . . [Bouma-Prediger] writes from a reformed Christian perspective that is engaging and persuasive to readers across the ecumenical spectrum. . . . In an Introduction and eight chapters that are organized logically and flow well from one to the next, Bouma-Prediger convincingly demonstrates that [ecology] has everything to do with [theology]. . . . For the Beauty of the Earth is perfectly suited for college level courses and does not require an extensive background in environmental science or ethics to understand its message. The book models for students how theology can engage a variety of other disciplines in a coherent and integrated fashion in order to address what may be the most important problem facing us for the foreseeable future. Indeed, it is one of those rare books that students say they find hard to put down.
—Catholic Books Review
Product Details
Title: For the Beauty of the Earth: A Christian Vision for Creation Care
Author: Steven Bouma-Prediger
Edition: 2nd
Series: Engaging Culture
Publisher: Baker Academic
Publication Date: 2010
Pages: 288
About the Author
Steven Bouma-Prediger is professor of religion and chair of the religion department at Hope College. He is the author of The Greening of Theology: The Ecological Models of Rosemary Radford Ruether, Joseph Sittler, and Jurgen Moltmann and the coauthor of Assessing the Ark: A Christian Perspective on Non-human Creatures and the Endangered Species Act (with Virginia Vroblesky) and Evocations of Grace: The Writings of Joseph Sittler on Ecology, Theology, and Ethics (with Peter Bakken).
Reviews
What other people are saying about For the Beauty of the Earth: A Christian Vision for Creation Care.