Visual Faith: Art, Theology, and Worship in Dialogue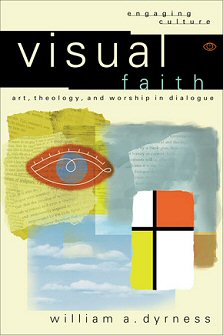 Overview
How can art enhance and enrich the Christian faith? What is the basis for a relationship between the church and visual imagery? Can the art world and the Protestant church be reconciled? Is art idolatry and vanity, or can it be used to strengthen the church? Grounded in historical and biblical research, William Dyrness offers students and scholars an intriguing, substantive look into the relationship between the church and the world of art.
Faith and art were not always discordant. According to Dyrness, Israel understood imagery and beauty as reflections of God's perfect order; likewise, early Christians used art to teach and inspire. However, the Protestant church abandoned visual arts and imagery during the Reformation in favor of the written word and has only recently begun to reexamine art's role in Christianity and worship. Dyrness affirms this renewal and argues that art, if reflecting the order and wholeness of the world God created, can and should play an important role in modern Christianity.
Please note that this volume will not include images.
Praise for the Print Edition
Both theological and practical, this wide-ranging study will be of special interest to all who want to get beyond the sterile prejudices that have so often marred the relation between visual art and Protestantism.
—Jeremy Begbie, Thomas A. Langford Research Professor of Theology
Dyrness advocates 'careful historical and theological reflection' and puts this into practice in ways that satisfy the academic mind. Most of all, however, he emerges as a theologian of the arts with a message for the churches. He offers a well-founded critique of traditional Protestant prejudice against matters visual and artistic, and he issues an inspiring challenge to follow the Spirit into richer modes of praise and worship.
—Graham Birtwistle, associate professor, The University of Sheffield
A refreshing and welcome addition to the growing discourse on a Protestant recovery of visual imagination and the need for Christians of all stripes to engage and exploit the visual arts—both in the secular marketplace and within the worshiping life of the church.
—E. John Walford, professor of art history, Wheaton College
The image-oriented insularity found in certain sectors of the Protestant church is sensitively and thoughtfully challenged by Bill Dyrness in this insightful guide. Visual Faith weaves together a compelling case for the collaboration between art and Christianity. Placing the complex world of contemporary art making within historical, theological, and cultural contexts, Dyrness affirms the necessity of images in the ongoing vitality of the church and her mission.
—Barry Krammes, professor of art, Biola University
About the Author
William A. Dyrness is a professor of theology and culture at Fuller Theological Seminary. He is the author of many books, including The Earth Is God's: A Theology of American Culture.
Reviews
What other people are saying about Visual Faith: Art, Theology, and Worship in Dialogue.