Interpreting God's Word Today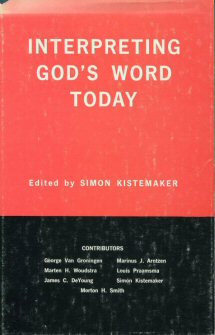 Overview
This volume, edited by Simon J. Kistemaker, compiles the voices of seven scholars—including Kistemaker—speaking on the challenging subject of interpreting Scripture in a contemporary context. Kistemaker calls this work a symposium which aims to "give guidance and direction in the reading, understanding, and interpretation of the living Word of God." These writers "consistently opposed the concept of discontinuity—to break with the past. They view current interpretations in the light of explanations formerly held in order to achieve a continuity which is relevant today." Scholars include George Van Groningen, Marten H. Woudstra, James C. DeYoung, Marinus J. Arntzen, Louis Praamsma, and Morton H. Smith. They discuss topics such as the formation and interpretation of Genesis and of the Gospels, the inspiration and trustworthiness of Scripture, interpretation and the defense of the faith, and authority and interpretation of confessional standards.
Studying Kistemaker's work with Logos streamlines and enhances your experience. Scripture citations link directly to English translations, and important terms link to dictionaries, encyclopedias, and a wealth of other resources in your digital library. Bolster your study of these works by cross-referencing and comparing with an extensive library of Reformed scholarship. Take your study with you using tablet and mobile apps. With Logos Bible Software, the most efficient and comprehensive research tools are in one place, so you get the most out of your study.
Key Features
Collects the thoughts of seven scholars on modern interpretation
Discusses topics such as formation and reliability of Scripture
Examines modern interpretation in light of past scholarly work
Contents
"Genesis: Its Formation and Interpretation," by George Van Groningen
"Event and Interpretation in the Old Testament," by Marten H. Woudstra
"Formation and Interpretation of the Gospels," by Simon Kistemaker
"Event and Interpretation of the Resurrection," by James C. DeYoung
"Inspiration and Trustworthiness of Scripture," by Marinus J. Arntzen
"Authority and Interpretation of Confessional Standards," by Louis Praamsma
"Interpretation and the Defense of the Faith," by Morton H. Smith
About Simon J. Kistemaker
Simon J. Kistemaker is professor emeritus of New Testament at Reformed Theological Seminary in Orlando, Florida. Born in the Netherlands, he studied at Calvin College, and Calvin Theological Seminary before earning his ThD at the Free University in Amsterdam. He was president of the Evangelical Theological Society in 1976, and has written a number of books, including several volumes in the Baker New Testament Commentary series, begun by William Hendriksen. Kistemaker won the Gold Medallion Evangelical Book of the Year Award for four of his volumes in this series.
Reviews
What other people are saying about Interpreting God's Word Today.