As Christ Submits to the Church: A Biblical Understanding of Leadership and Mutual Submission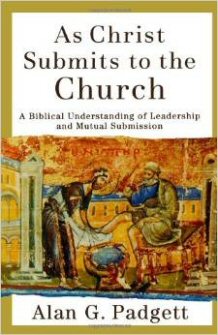 Overview
Does Christ submit to the church? Should Christians submit to each other? What about husbands and wives? In this volume, theologian Alan Padgett offers a fresh look at the ethics of submission, gender roles, and servant leadership in the New Testament. Through his careful interpretation of Paul's letters and broader New Testament teaching, the author shows how Christ's submission to the church models an appropriate understanding of gender roles and servant leadership. As Christ submits to the church, so all Christians must submit to, serve, and care for one another. Padgett articulates a creative approach to mutual submission and explores its practical outworking in the church today, providing biblical and ethical affirmation for equality in leadership
In the Logos edition, this volume is enhanced by amazing functionality. Scripture citations link directly to English translations, and important terms link to dictionaries, encyclopedias, and a wealth of other resources in your digital library. Perform powerful searches to find exactly what you're looking for. Take the discussion with you using tablet and mobile apps. With Logos Bible Software, the most efficient and comprehensive research tools are in one place, so you get the most out of your study.
Key Features
Offers a fresh look at the ethics of submission, gender roles, and servant leadership
Shows how Christ's submission to the church models an understanding of gender roles and servant leadership
Explores the practical outworking of gender roles in the church today
Contents
Living Gospel: Evangelical Approaches to Gender Roles
Mutual Submission and Christian Leadership: The Bible and the Ethics of Roles
Mutual Submission or Male Domination?: Christ and Gender Roles In Ephesians and 1 Corinthians
Mission and Submission: 1 Peter and the Pastoral Epistles
Headship and Head-Coverings: 1 Corinthians 11:2–16 From the Bottom Up
Submission Today: Hunger and Thirst for Justice
Praise for the Print Edition
As Christ Submits to the Church is an insightful, compelling, and much-needed work, not only on the specific issue of women in leadership, but also on the distinctive nature of Christian leadership in general. Combining theological and exegetical skills, Padgett has given us a scholarly yet broadly accessible book that moves us beyond some of the impasses that have bogged down the discussion on this hot topic. Regardless of one's stance on the women-and-leadership issue, As Christ Submits to the Church is a must-read for all who care about Christlike leadership.
—Gregory A. Boyd, senior pastor, Woodland Hills Church, St. Paul, Minnesota
Exploring critical questions regarding biblical interpretation, As Christ Submits to the Church offers a thoroughly Christian understanding of submission and service within marriage and the church. Alan Padgett opens much sky over the heads of those engaged in the evangelical conversation on gender and authority. This book is well worth our time and attention.
—Mimi Haddad, president, Christians for Biblical Equality
Product Details
Title: As Christ Submits to the Church: A Biblical Understanding of Leadership and Mutual Submission
Authors: Alan G. Padgett
Publisher: Baker
Publication Date: 2011
Pages: 176
Resource Type: Topical
Topic: Women
About Alan G. Padgett
Alan G. Padgett is professor of systematic theology at Luther Seminary in St. Paul, Minnesota, and the author or coauthor of several books, including Christianity and Western Thought (volumes 2 and 3), But Is It All True?: The Bible and the Question of Truth, and Science and the Study of God. His scholarship ranges over philosophy, theology and science, and New Testament studies. Padgett is also an ordained minister in the United Methodist Church.
Reviews
What other people are saying about As Christ Submits to the Church: A Biblical Understanding of Leadership and Mutual Submission.