Encountering Mission Series (6 vols.)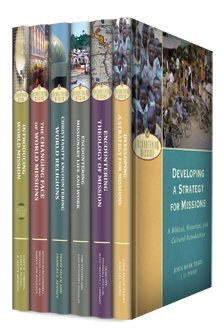 Baker Academic
, 2004–2013
Overview
The Encountering Mission Series is designed to introduce a new generation of students to missions. Authored by leading evangelical scholars, these volumes explore the issues, developments, trends, context, and changes in world missions in the twenty-first century. They analyze the theological basis for missions and provide insight on preparing for the mission field.
With the Logos Bible Software edition, you have unprecedented access to resources that offer relatable and insightful material on Christian missions. The powerful search tools in your digital library help you locate the specific material relevant to you, whether it is textual or topical. Hours of biblical research can be accomplished with the simple click of a mouse. All Scripture passages in the Encountering Mission Series link to your favorite Bible translation in your library. You can perform powerful searches by topic and find what other authors, pastors, and theologians have to say, making this series ideal for studying contemporary missions.
Key Features
Offers a contemporary view on missions
Provides insight on missions' trends, developments, and issues
Analyzes the theology of mission
Reviews
What other people are saying about Encountering Mission Series (6 vols.).