They Shall Expel Demons: What You Need to Know about Demons - Your Invisible Enemies (audio)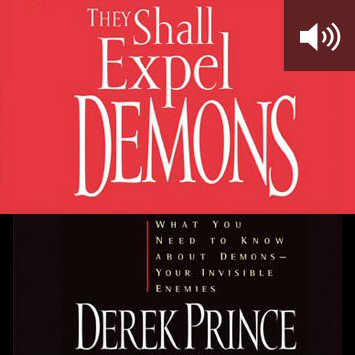 Overview
In this practical, comprehensive handbook on deliverance, Derek Prince shares his own struggle with demons and addresses the fears and misconceptions often associated with deliverance. Speaking from more than 30 years of personal experience in this ministry, Prince offers down-to-earth advice on how to receive and minister deliverance and how to remain free. He also describes nine characteristic activities of demons, seven ways demons gain access to people's lives, and then leads you through nine steps to deliverance.
Audiobooks add a new dimension to your digital library. When you listen in Logos, your audiobooks sync across devices—pause a book anytime on your home computer, then pick up where you left off in your car or on your laptop. Listen on your lunch breaks, as a family, or as part of your personal devotional time. Tap into the power of Logos Bible Software in a whole new way.
Key Features
Provides advice for recognizing demons
Explains the effects of demons on personality and life
Analyzes the process of deliverance
Contents of Print Edition
Fundamentals

How Did Jesus Do It?
Terminology
The Pattern and Mission of Jesus

In the School of Experience

My Struggle with Depression
People I Failed to Help
Confrontation with Demons
Challenged in My Own Pulpit
Beneath the Surface
Lessons from an Expanding Ministry
Ongoing Personal Conflicts

Seven Questions

What Are Demons?
Flesh or Demons?
How Do Demons Come In?
What Is the Occult?
Is Witchcraft Still at Work Today?
Do Christians Ever Need Deliverance from Demons?
Will the Holy Spirit Indwell an Unclean Vessel?

How to Recognize and Expel Demons

Characteristic Activities of Demons
Areas of Personality Affected by Demons
Demons of Sickness and Infirmity
Preparing for Deliverance
A Prayer for Deliverance
How to Keep Your Deliverance
Why Some Are Not Delivered
Helping Others Be Set Free
After Deliverance . . . ?
Product Details
Title: They Shall Expel Demons: What You Need to Know about Demons—Your Invisible Enemies
Author: Derek Prince
Narrator: James Adams
Edition: Unabridged
Publisher: christianaudio
Print Publisher: Chosen Books
Runtime: 7 hours
Product Type: Audiobook
Topic: Spiritual Warfare
About Derek Prince
Peter Derek Vaughan Prince (1915–2003) was an international Bible teacher whose daily radio program Derek Prince Legacy Radio (presently hosted by author Stephen Mansfield) broadcasts to half the population of the world in various languages. He was most noted for his teachings about deliverance from demonic oppression, as well as teachings about Israel.
Reviews
What other people are saying about They Shall Expel Demons: What You Need to Know about Demons - Your Invisible Enemies (audio).