Desiring God: Meditations of A Christian Hedonist (with audio)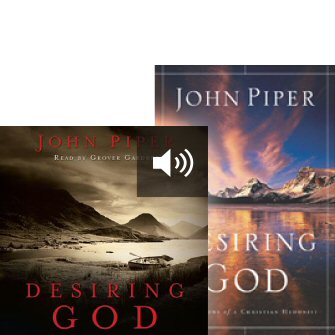 This product is currently unavailable on Android devices.
Overview
The pursuit of pleasure is not optional. It is essential. Scripture reveals that the great business of life is to glorify God by enjoying him forever. In this paradigm-shattering work, John Piper reveals that the debate between duty and delight doesn't truly exist: Delight is our duty. Join him as he unveils stunning, life-impacting truths you saw in the Bible but never dared to believe. The message of Desiring God is that God is most glorified in us when we are most satisfied in him. In this book, Piper calls this worldview "Christian Hedonism" and explains why pursuing maximum joy is essential to glorifying God. He discusses the implications of this for conversion, worship, love, Scripture, prayer, money, marriage, missions, and suffering. This product includes both the audio and Logos edition of Desiring God.
Audiobooks add new dimension to your digital library. When you listen in Logos, the audio syncs word-for-word with the text. Your audiobooks also sync across devices—pause a book anytime on your home computer, then pick up where you left off in your car or on your laptop. Listen on your lunch breaks, as a family, or as part of your personal devotional time. Tap into the power of Logos Bible Software in a whole new way.
Key Features
Explains the role that joy plays in glorifying God
Explores joy in every aspect of life
Describes Piper's worldview
Contents of Print Edition
The Happiness of God: Foundation for Christian Hedonism
Conversion: The Creation of a Christian Hedonist
Worship: The Feast of Christian Hedonism
Love: The Labor of Christian Hedonism
Scripture: Kindling for Christian Hedonism
Prayer: The Power of Christian Hedonism
Money: The Currency of Christian Hedonism
Marriage: A Matrix for Christian Hedonism
Missions: The Battle Cry of Christian Hedonism
Suffering: The Sacrifice of Christian Hedonism
Resources Included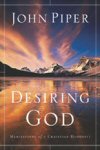 [A] modern manual of true spirituality.
—R.C. Sproul, chairman, Ligonier Ministries
A soul-stirring celebration of the pleasures of knowing God . . . A must-read for every Christian and a feast for the spiritually hungry.
—John MacArthur, pastor, Grace Community Church

Desiring God: Meditations of a Christian Hedonist (audio)
Author: John Piper
Narrator: Grover Gardner
Edition: Unabridged
Publisher: christianaudio Hovel
Runtime: 12.3 hours
Product Type: Audiobook
Mind-hammering and heart-warming, Desiring God ignites a passion for God that would set the world ablaze if it were the norm and not the exception today.
—Os Guiness, author, Time for Truth
The healthy biblical realism of this study in Christian motivation comes as a breath of fresh air. Jonathan Edwards, whose ghost walks through most of Piper's pages, would be delighted with his disciple.
—J.I. Packer, former professor of theology, Regent College
About John Piper
John Piper (b. 1946) is a widely respected theologian and best-selling author who served as Pastor for preaching and vision of Bethlehem Baptist Church for 33 years. He still serves as chancellor of Bethlehem College and Seminary. Logos has collected his sermons in The John Piper Sermon Archive (1980–2014).
Piper attended Wheaton College where he majored in literature and minored in philosophy. He completed his bachelor of divinity at Fuller Theological Seminary, where he studied under Dr. Daniel Fuller. Piper received his doctorate in theology from the University of Munich and taught biblical studies for six years at Bethel College.
Several of Piper's books have been Evangelical Christian Publishers Association Christian book award winners including What Jesus Demands from the World, Pierced, and God's Passion for His Glory: Living the Vision of Jonathan Edwards. The Crossway John Piper Collection includes 39 titles from Piper, including Love Your Enemies and A Hunger for God.
Reviews
What other people are saying about Desiring God: Meditations of A Christian Hedonist (with audio).