The Invisible War: What Every Believer Needs to Know about Satan, Demons, and Spiritual Warfare (Text and Audio Bundle)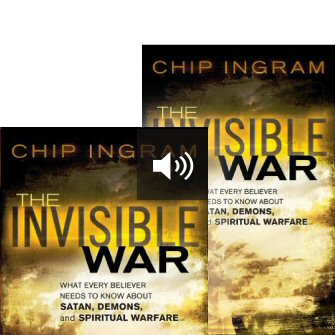 Overview
Some Christians believe strongly in the existence of demons and spiritual warfare. Others downplay or even ignore the idea. With such divergent views, how are Christians supposed to know the truth about demonic forces at work in this world? The Invisible War examines what every believer needs to know about Satan, demons, and spiritual warfare, offering a balanced look at this controversial subject. This provocative book will help Christians understand what the Bible says about these threats and will show them how they can safeguard themselves and their families through prayer. This product includes both the audio and Logos edition of The Invisible War.
Key Features
Provides a balanced look at the controversial topic of spiritual warfare
Utilizes Scripture to frame the conversation
Discusses the ways that prayer can be a powerful tool
Contents of Print Edition
Spiritual Warfare 101—What Every Believer Needs to Know

Why You Struggle
Your Life—Behind the Scenes
You Have a Personal Enemy
Our Strategic Position

Spiritual Warfare 201—How to Prepare Yourself for Spiritual Battle

Your Personal "Code Red"
Sifting through False Intelligence
In Sync with God
Bombarded by Doubts

Spiritual Warfare 301—How to Do Battle with the Enemy and Win

When You're Attacked
Cultivate Invincible Faith
The Battle for Your Mind
Wield Your Weapons

Spiritual Warfare 401—Deliverance from Demonic Influence

The Missing Ingredient of Your Life
When the Enemy Gets In
How to Find Freedom
Resources Included
The Invisible War: What Every Believer Needs to Know about Satan, Demons, and Spiritual Warfare (audio)
Author: Chip Ingram
Narrator: David Drui
Edition: Abridged
Publisher: christianaudio
Runtime: 4.4 hours
Product Type: Audiobook
About Chip Ingram
Chip Ingram's passion is helping Christians learn how to be more Christ-like. As a pastor, author, coach, and teacher for over 25 years, Chip has a unique ability to communicate truth that challenges people to live out their faith. Today, he serves as senior pastor of Venture Christian Church in Los Gatos, California, and president of Living on the Edge, an international teaching and discipleship ministry. He is the author of 12 books, including Good to Great in God's Eyes, God: As He Longs for You to See Him, and Love, Sex and Lasting Relationships.
Reviews
What other people are saying about The Invisible War: What Every Believer Needs to Know about Satan, Demons, and Spiritual Warfare (Text and Audio Bundle).