Church Evangelism Collection (3 vols.)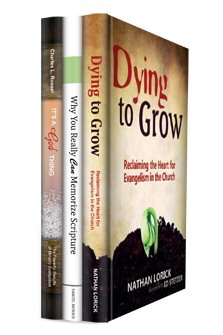 Overview
Equipping both church leaders and laymen, the Church Evangelism Collection is filled with strategies for church growth—not attracting Christians from other churches and traditions, but by reaching the lost with the Gospel. Throughout these works you'll find resources for evaluating the mission of your church and casting a new vision for God's glory through strong churches with a heart for the temporal and eternal needs of those outside its walls.
In Dying to Grow, Nathan Lorick challenges churches to evaluate how well they are fostering Gospel-based evangelism, encouraging pastors and members to prioritize preaching the Gospel over retaining attendance. Charles L. Roesel's It's a God Thing tells the story of how his ministry flourished by obeying biblical commands to care for the poor and downcast. And lastly, Daniel Morris' volume on Scripture memorization mobilizes the churches greatest missionary—the Bible itself.
In the Logos edition, the Church Evangelism Collection is enhanced by amazing functionality. Scripture citations link directly to English translations, and important terms link to dictionaries, encyclopedias, and a wealth of other resources in your digital library. Perform powerful searches to find exactly what you're looking for. Take the discussion with you using tablet and mobile apps. With Logos Bible Software, the most efficient and comprehensive research tools are in one place, so you get the most out of your study.
Key Features
Equips church leaders and laymen for earnest and intentional evangelism
Outlines strategies for growing ministries for the poor and sick
Analyzes the current state of Christian evangelism and growth
Product Details
Title: Church Evangelism Collection
Publisher: Life Sentence
Volumes: 3
Pages: 358
Christian Group: Evangelical
Resource Type: Topical
Individual Titles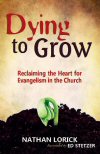 Never before have we seen the church degenerate at such a rapid pace. This is largely due to the church pursuing congregational growth instead of kingdom growth. The church is dying because our growth isn't based on strategies to reach the lost with the gospel. The time to change is now, we can't wait any longer. People's eternities are at stake.
What is your church's priority? Are you more concerned with filling your building or furthering the kingdom? This book will challenge you to evaluate just how important gospel-based evangelism is to you and your church, and call on you to restore an intentional evangelism strategy within the body. Hell will tremble when churches once again make evangelism the central theme of their strategy.
Nathan Lorick is the director of evangelism for the Southern Baptists of Texas Convention. His passion is to see the church come alive through intentional evangelism and world missions. He currently serves as a trustee for the International Mission Board of the Southern Baptist Convention (SBC). He is a graduate of East Texas Baptist University and Liberty Baptist Theological Seminary where he earned both a MDiv and DMin.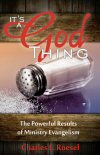 A bold leader decided to follow Jesus' teachings, resulting in a powerful ministry that has his entire congregation serving the desolate, the hungry, and the sick. Through this obedience to Scripture, his church grew from a small 250-member congregation to a thriving, life-filled body of Christ that is active in an astounding 70 ministries today.
Learn how your church can follow Jesus today, no matter your budget or how stale your current ministry "programs," and in spite of opposition. Dr. Roesel overcame the overwhelming odds and proved that Jesus' teachings are still valid today.
Charles L. Roesel has been the pastor of First Baptist Church of Leesburg, Florida for over 35 years. He is the recipient of the Southern Baptist Distinguished Service Award, and was the Stetson University's Florida Urban Pastor of the Year in 1973.

Called to be a missionary as a teenager, Daniel Morris had a great desire to fulfill God's will, but also a great sense of inadequacy. He took heart in Psalm 1:3's encouragement that he who meditates on God's word "shall be like a tree planted by the rivers of water, that bringeth forth his fruit in his season; his leaf also shall not wither; and whatsoever he doeth shall prosper."
Part of meditation is to memorize God's Word. Morris began a systematic method of memorizing consecutive passages of Scripture. Through the years he learned—by study and experience—to maximize the brain's memory function. His book describes what he learned about memorizing and retaining Scripture.
Daniel Morris graduated from Pacific Coast Baptist Bible College and Anchor Theological Seminary. He received his PhD in Biblical Studies from Louisiana Baptist University. Since 1978, he and his wife, Debbie, have served as missionaries in Chiapas, Mexico. He presently pastors the Baptist church he founded in Tuxtla Gutiérrez and oversees several other churches, missions and a Christian school. Much of his time is dedicated to training Mexican pastors, and counseling.
Reviews
What other people are saying about Church Evangelism Collection (3 vols.).