Galatians for You: For Reading, for Feeding, for Leading (with audio)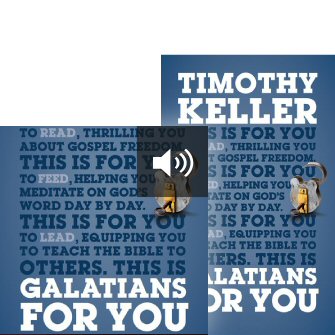 This product is currently unavailable on Android devices.
Overview
Galatians for You is a new curriculum tool you can use to learn or teach from the book of Galatians. Both student and teacher can use it to walk through Galatians, learning how the gospel message changes the whole of our lives.
Combining a close attention to the detail of the text with Tim Keller's trademark gift for clear explanation and compelling insights, this is a uniquely flexible curriculum resource. It can be utilized by anyone who has a teaching ministry, to help small-group leaders understand and apply the text in their study groups, and to give preachers helpful ways of connecting timeless Bible truths to today's world. It can be used as a daily devotional, complete with reflection questions. Or it can be read for personal study and edification. This product includes both the audio and Logos edition of Galatians for You.
Audiobooks add new dimension to your digital library. When you listen in Logos, the audio syncs word-for-word with the text. Your audiobooks also sync across devices—pause a book anytime on your home computer, then pick up where you left off in your car or on your laptop. Listen on your lunch breaks, as a family, or as part of your personal devotional time. Tap into the power of Logos Bible Software in a whole new way.
Check out the small-group study guide Galatians: Gospel Matters: Seven Studies for Groups or Individuals, the print version can be purchased in the Timothy Keller Expository Guides collection.
Key Features
Provides clear explanation of the text that illustrates how the gospel changes every part of life
Connects profound Bible truths to today's world
Engages the mind and the heart with compelling insight into the text
Contents of Print Edition
The Uniqueness of the Gospel
God's Amazing Grace
Gospel Unity
Living in Line with the Gospel
You Never Leave It Behind
The Law in the Gospel Life
Children of God
Two Religions, Two Ministries
Grace to the Barren
Gospel Freedom
Gospel Character
Gospel Relationships
Sowing and Reaping
Resources Included

Galatians for You: For Reading, for Feeding, for Leading (audio)
Author: Timothy J. Keller
Narrator: Maurice England
Edition: Unabridged
Series: God's Word for You
Publisher: christianaudio
Product Type: Audiobook
Runtime: 6.2 hours
About Timothy Keller
Timothy Keller as born and raised in Pennsylvania and educated at Bucknell University, Gordon-Conwell Theological Seminary, and Westminster Theological Seminary. He previously served as pastor of West Hopewell Presbyterian Church in Hopewell, Virginia, associate professor of practical theology at Westminster Theological Seminary, and director of Mercy Ministries for the Presbyterian Church in America.
Timothy Keller is the founding pastor of Redeemer Presbyterian Church in Manhattan, which he started in 1989 with his wife, Kathy, and his three young sons. For over 20 years, he has led a diverse congregation of young professionals with a weekly attendance of over 5,000. He is also president of Redeemer City to City, which plants new churches in New York and other global cities and publishes books and resources for faith in an urban culture. Over the past 10 years, the organization has helped launch over 200 churches in 35 cities.
Reviews
What other people are saying about Galatians for You: For Reading, for Feeding, for Leading (with audio).