Blue Like Jazz: Nonreligious Thoughts on Christian Spirituality (audio)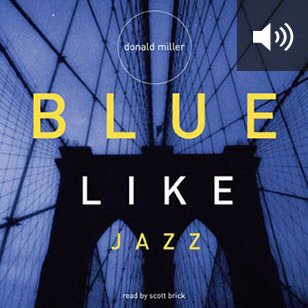 Overview
"I never liked jazz music because jazz music doesn't resolve. . . . I used to not like God because God didn't resolve. But that was before any of this happened." In Donald Miller's early years, he was vaguely familiar with a distant God. But when he came to know Jesus Christ, he pursued the Christian life with great zeal. Within a few years he had a successful ministry that ultimately left him feeling empty, burned out, and, once again, far away from God. In this intimate, soul-searching account, Miller describes his remarkable journey back to a culturally relevant, infinitely loving God.
Check out the Faithlife Ebooks edition of Blue Like Jazz for a text version!
Key Features
Tells the story of Donald Miller and his experience with Christian life
Flows in a conversational and anecdotal style
Explores thoughts on a variety of themes in Christianity
Contents of Print Edition
Beginnings: God on a Dirt Road Walking toward Me
Problems: What I Learned on Television
Magic: The Problem with Romeo
Shifts: Find a Penny
Faith: Penguin Sex
Redemption: The Sexy Carrots
Grace: The Beggars' Kingdom
gods: Our Tiny Invisible Friends
Change: New Starts at Ancient Faith
Belief: The Birth of Cool
Confession: Coming Out of the Closet
Church: How I Go without Getting Angry
Romance: Meeting Girls Is Easy
Alone: Fifty-three Years in Space
Community: Living with Freaks
Money: Thoughts on Paying Rent
Worship: The Mystical Wonder
Love: How to Really Love Other People
Love: How to Really Love Yourself
Jesus: The Lines on His Face
About Donald Miller
Donald Miller is a speaker, founder of The Mentoring Project, and author of A Million Miles in a Thousand Years, Blue Like Jazz, Searching for God Knows What, Through Painted Deserts, and Father Fiction.
Reviews
What other people are saying about Blue Like Jazz: Nonreligious Thoughts on Christian Spirituality (audio).