Short Meditations on Elisha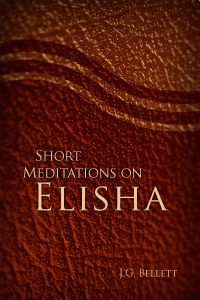 Overview
The value of this little book will be found not by a mere rapid reading, but by "meditation" on the subjects of which it treats. The man of the world is imbued with "the spirit of the world," by which he knows, enters into, and loves the things of the world. But the children of God "have received, not the spirit of the world, but the Spirit which is of God, that we might know the things which are freely given to us of God" (1 Cor. 2:12). Meditation in God's precious Word leads to the knowledge, not of truth only, but of God; and this is our peace, and security, and power while we pass as pilgrims through the world. To this end, we trust, this little book will be a help.
-From the Introduction
Product Details
Title: Short Meditations on Elisha
Author: J. G. Bellett
Publisher: Galaxie Software
Publication Date: 2004
Reviews
What other people are saying about Short Meditations on Elisha.