Life and Times of Samuel the Prophet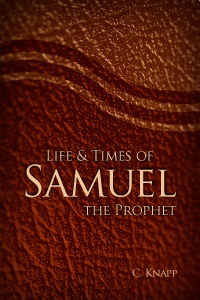 Overview
Samuel is one of the very few blameless characters of Biblical history; for we must not conclude from the complaint of the people (ever ready to exaggerate, when seeking an excuse for a course in which their conscience is uneasy), that Samuel had really failed in reference to his sons, or refused to remove them, had it been in his power to do so. It is possible that he was not as exacting of them in connection with the exercise of their judgeship as he should have been, though there is no certain evidence of this. They were his natural and legitimate successors, and were perhaps the best that Could be had at the time. No, we love to think of him as Samuel the Blameless, and honor him, not only for the exalted position he occupied, and for his work's sake, but for his personal excellences as well.
-From the Introduction
Product Details
Title: Life and Times of Samuel the Prophet
Author: Christopher Knapp
Publisher: Galaxie Software
Publication Date: 2004
Reviews
What other people are saying about Life and Times of Samuel the Prophet.