Catholic Answers Collection Upgrade (6 vols.)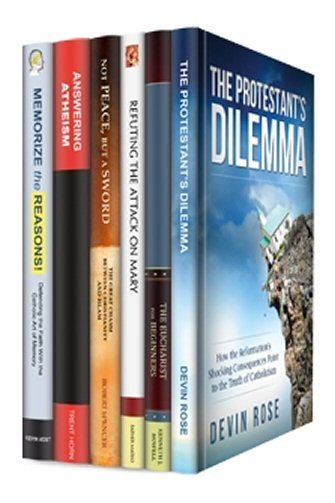 Catholic Answers
, 1999–2014
Overview
This six volume update to the Catholic Answers Collection equips readers to defend Catholic beliefs while instructing them in basic Catholic teaching. Topics as diverse as Catholicism and Islam, Marian doctrine, basic teaching on the Eucharist and Protestant objections to Catholic teaching are written in an accessible style perfect for those just encountering Catholicism as well as those sharpening their apologetic skills. These six titles will equip you to dialogue with your non-Catholic friends in a winsome, engaging way while deepening your own faith.
The Logos edition of the Catholic Answers Collection Upgrade is completely tagged and indexed for near-instant search results. References to the Catechism of the Catholic Church, the Code of Canon Law, and Holy Scripture link directly to the texts for easy cross-reference. You can also pull up two or more references for side-by-side comparison.
Key Features
Provides answers to Protestant objections to Catholicism
Outlines practical methods for dialogue with non-Catholics
Clear and concise writing for those new to the Catholic faith
Reviews
What other people are saying about Catholic Answers Collection Upgrade (6 vols.).