Mobile Ed: CM103 Invitation to Biblical Preaching II: Preaching Biblical Sermons (8 hour course)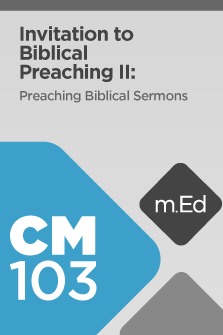 Overview
After looking at the reasons for preaching in Invitation to Biblical Preaching I, Dr. J. Kent Edwards walks through the important aspects of sermon preparation. Edwards moves from exegesis to exposition, showing students how they can apply the original context of Scripture to the context of their congregations. He also covers important presentation and delivery aspects of preaching like word choices, intonation, and nonverbal signals. This course will give you the tools you need to prepare and deliver biblical sermons.
Be prepared to serve through Preaching. Earn a Mobile Ed Certificate of Completion when you invest in your education. Learn more about the Preaching Certificate Program.
Learning Objectives
Upon successful completion you should be able to:
Define and explain a "big idea" and discuss the importance of preaching with one
Gain proficiency in developing big ideas
Describe the differences between the exegetical, homiletical, and preaching ideas
Discuss the role of the Holy Spirit in preaching
Identify the advantages of preaching from an outline
Describe each element of an outline for a sermon on an epistolary text
Summarize the importance of non-verbal communication in a sermon
Course Outline
Introduction
Introducing the Speaker and the Course
Unit 1: How to Create a Sermon
Overview: Kent's Story
The Power of an Idea
Two Parts of Preaching
Gathering Tools for the Exegetical Task
The Anatomy of an Idea
Practicing a Big Idea
A Metaphor for Finding the Big Idea
Creating a Customized Layout for Sermon Preparation
Practicing on Your Own
Creating a Devotional Schedule and Recording Notes
The Ladder of Abstraction
Practicing the Ladder of Abstraction
More Practice: The Lazy in Proverbs 24
More Practice: The Gospel of Luke
More Practice: A Good Name in Proverbs 22
More Practice: Miscellaneous Proverbs
Analyzing the Structure of Hebrew Poetry
More Practice: Business in James
More Practice: A Fresh Look at John 3:16
Using the Timeline to See a Passage's Historical Context
More Practice: God's Care in Psalm 121
Finding Old Testament Quotations or Allusions in New Testament Passages
Unit 2: How to Preach a Sermon
The Approach of the Biblical Writers
An Example: Paul's Communication
Researching New Testament Topics in Extrabiblical Literature
The Big Idea and Your Audience
Bringing Biblical Ideas to the 21st Century
Turning One Big Idea into Three Ideas
The Three Ideas in Deuteronomy 22:8
The Three Ideas in 1 Peter 1:3–6
Practice, Practice, Practice
Unit 3: The Role of the Holy Spirit
The Third Component of Preaching
The Explosive Growth of the Early Church
Finding Every Reference to the Holy Spirit in Acts
The Apostolic Secret to Preaching
Human Limitations
Exegesis and Illumination
Five "Closet" Questions
Finding Time for the "Closet"
Unit 4: The Homiletics of a Sermon
An Overview of the Rules
The Structure of Jesus' Sermon on the Mount
Making an Outline
Creating Sermon Outlines in Logos
Outlining an Epistle (Rom 5:1–5)
Transitions
Organizing Your Material: A-B-C-A
A: Restate the Point
B: Image the Truth
C: Deal with Objections
Imaging the Truth: Videos and Illustrations
Imaging the Truth: Metaphors
Metaphor Illustrated
Finding Metaphors
Conclusions
Introductions
Applications, Part 1
Applications, Part 2
Presentation and Delivery, Part 1
Presentation and Delivery, Part 2
Conclusion
Fanning the Flame
Creating Your Own Searchable Sermon Library
Product Details
Title: CM103 Invitation to Biblical Preaching II: Preaching Biblical Sermons
Instructor: J. Kent Edwards
Publisher: Lexham Press
Publication Date: 2014
Product Type: Logos Mobile Education
Resource Type: Courseware, including transcripts, audio, and video resources
Courses: 1
Video Hours: 8
About J. Kent Edwards
Dr. J. Kent Edwards (MDiv, DMin, PhD) is the tenured professor of preaching and leadership at Talbot School of Theology, Biola University; the founding pastor of Oasis Community Church in Yorba Linda, California; and the founder and president of CrossTalk Global. Dr. Edwards is known for his passion for preaching, and brings over 30 years of Christian leadership experience, both as a senior pastor and a church planter. He is a popular conference speaker, the founder of The Journal of Christian Ministry, and the author of the award-winning books Effective First-Person Biblical Preaching and Deep Preaching.
Getting the most out of Mobile Ed
Logos Mobile Education is a highly effective cross-platform learning environment that integrates world class teaching with the powerful study tools and theological libraries available in Logos Bible Software. Every course provides links to additional resources and suggested readings that supplement the lecture material at the end of every transcript segment.
This course was produced with screencast videos. These videos provide tutorials showing you how to use Logos Bible Software in ways that are tied directly into the content of the course. We are now producing Activities resources as a replacement for screencast videos. We plan on updating this course to include this additional Activities resource in the future for no extra charge.
Reviews
What other people are saying about Mobile Ed: CM103 Invitation to Biblical Preaching II: Preaching Biblical Sermons (8 hour course).