Trinitarian Studies Collection (4 vols.)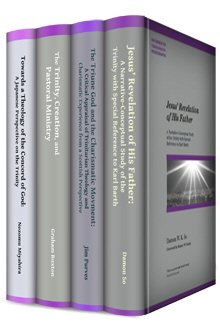 Overview
How has Trinitarian theology evolved in recent decades, and what is the shape of its future? Recent decades have seen a resurgence of interest in Trinitarian theology, as church leaders, historians, and theologians have realized its centrality in Christian faith and practice. This complex doctrine has opened new doors for inquiry, and prompted renewed discussion and reflection across the confessional spectrum and the theological disciplines.
The 4-volume Trinitarian Studies Collection explores the connections between Trinitarian studies and the other theological disciplines, including pastoral theology, the doctrine of creation, and historical theology. The authors explore the relational nature of the Trinity—including its use as a model for all human relationships—with special emphasis on the relationship between the Father and the Son in the Gospels and in the writings of the church's key theologians.
This collection also draws from wide-ranging theological inquiry and cross-cultural perspectives to help you understand how theological reflection on the Trinity is occurring in a variety of contexts. The Trinitarian Studies Collection includes Jim Purves' volume on the twentieth century charismatic movement in Scotland—in which he articulates an experiential doctrine of the Trinity—along with Nozomu Miyahira's account of the Trinity from within the context of Japanese theology and the Japanese intellectual climate.
Key Features
Approaches to Trinitarian theology from cross-cultural and cross-denominational perspectives
Connects Trinitarian theology with the other theological disciplines
All Scripture references linked to your original language texts and English translations
Individual Titles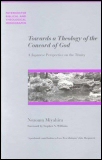 Towards a Theology of the Concord of God: A Japanese Perspective on the Trinity
Author: Nozomu Miyahira
Publisher: Paternoster Pressy
Publication Date: 2002
Pages: 256
This book introduces a new Japanese theology and a unique Trinitarian formula based on the Japanese intellectual climate: three betweennesses and one concord. It also represents a new interpretation of the Trinity, a co-subordinationism, which is in line with orthodox Trinitarianism—each single person of the Trinity is eternally and equally subordinate (or serviceable) to the other persons, so that they retain mutual dynamic equality.
Nozomu Miyahira is Professor of Christian Theology and American Thought at Seinan Gakuin University, Fukuoka, Japan.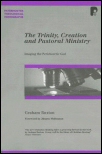 The Trinity, Creation, and Pastoral Ministry
Author: Graham Buxton
Publisher: Paternoster Press
Publication Date: 2006
Pages: 310
In this book the author proposes a three-way conversation between theology, science, and pastoral ministry. His approach draws on a Trinitarian understanding of God as a relational being of love, whose life spills over into all created reality, human and non-human. By locating human meaning and purpose within God's 'creation-community' this book offers the possibility of a transforming engagement between those in pastoral ministry and the scientific community. The Trinity, Creation, and Pastoral Ministry includes a forward written by Jurgen Moltmann.
The new Trinitarian thinking takes a great step forward in this book. It may well be the future of Christian theology.
—Jurgen Moltmann
Graham Buxton is director of postgraduate studies in ministry and theology, Tabor College, Adelaide, Australia. He is also the author of Dancing in the Dark and Celebrating Life.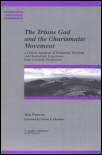 The Triune God and the Charismatic Movement: A Critical Appraisal of Trinitarian Theology and Charismatic Experience from a Scottish Perspective
Author: Jim Purves
Publisher: Paternoster Press
Publication Date: 2006
Pages: 245
All emotion and no theology? Or a fundamental challenge to reappraise and realign our Trinitarian theology in the light of Christian experience? This study of charismatic renewal as it found expression within Scotland at the end of the twentieth century evaluates the use of Patristic, Reformed and contemporary models of the Trinity in explaining the workings of the Holy Spirit.
Jim Purves is pastor of Bristol Baptist Church, Edinburgh, and serves on the Baptist Union of Scotland's national leadership team.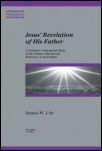 Jesus' Revelation of His Father: A Narrative-Conceptual Study of the Trinity with Special Reference to Karl Barth
Author: Damon So
Publisher: Paternoster Press
Publication Date: 2006
Pages: 348
This book explores the Trinitarian dynamics in the context of Jesus' revelation of his Father in his earthly ministry with references to key passages in Matthew's Gospel. It develops from the exegeses of these passages a non-linear concept of revelation which links Jesus' communion with his Father to his revelatory words and actions through a nuanced understanding of the Holy Spirit, with references to Karl Barth, G. W. H. Lampe, J. D. G. Dunn, and E. Irving.
Explores an important subject in an original and potentially fruitful way.
—Max Turner
Damon So serves as an adviser of the Oxford Chinese Christian Church and has studied at London Bible College and the University of Oxford.
Product Details
Title: Trinitarian Studies Collection (4 vols.)
Publisher: Paternoster Press
Volumes: 4
Pages: 1,159
Sample Pages from the Print Edition
Reviews
What other people are saying about Trinitarian Studies Collection (4 vols.).