Audiobook Prayer Collection (5 vols.)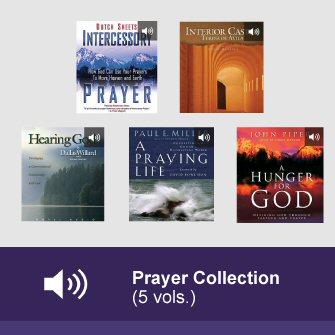 Overview
Discover time-tested methods for making the most of your prayer time with with this collection of audiobooks. Authors like John Piper, Teresa of Avila, and Dallas Willard share their personal experiences, demonstrating the ways God has transformed their prayer lives. Each audiobook focuses on specific aspects of devotional life and spiritual disciplines, including fasting, intercessory prayer, hearing from God, and more. With the Audiobook Prayer Collection, you can listen to unabridged classic works of devotional literature wherever you go.
Audiobooks add new dimension to your digital library. When you listen in Logos, your audiobooks sync across devices—pause a book anytime on your home computer, then pick up where you left off with the Logos mobile app or on your laptop. Listen on your lunch breaks, as a family, or as part of your personal devotional time. Plus, certain products link with text editions in your Logos library, enabling you to read in sync with the audio or switch seamlessly between reading and listening. Tap into the power of Logos Bible Software in a whole new way.
Key Features
Includes audiobooks on fasting, hearing from God, intercessory prayer, and more
Features the work of authors like Teresa of Avila, John Piper, and Dallas Willard
Focuses on practical methods for improving your prayer life
Reviews
What other people are saying about Audiobook Prayer Collection (5 vols.).