Classic Commentaries and Studies on Hosea (8 vols.)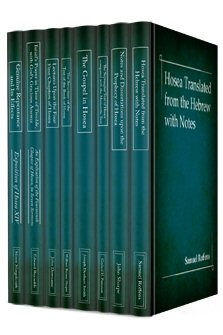 Overview
Hosea, though often referred to as the prophet of doom, is one of the Bible's most profound illustrations of God's love for his people and his promised redemption. These eight volumes represent some of the best studies on Hosea from the seventeenth to the early twentieth century. You'll get practical expositions of Hosea's marriage to Gomer, critical examinations of the Hebrew and Septuagint texts, theologically rich explorations of Hosea 14's promise of future restoration, and much more. These volumes are essential for anyone studying Hosea—students, scholars, pastors, and historians alike.
In the Logos edition, these volumes are enhanced by amazing functionality. Important terms link to dictionaries, encyclopedias, and a wealth of other resources in your digital library. Perform powerful searches to find exactly what you're looking for. Take the discussion with you using tablet and mobile apps. With Logos Bible Software, the most efficient and comprehensive research tools are in one place, so you get the most out of your study.
Key Features
Collects classic sermons, commentaries, and critical analysis on Hosea
Provides rich insights for studying and teaching the drama of Hosea's life and prophecy
Encompasses a wide variety of views and methods
Product Details
Title: Classic Commentaries and Studies on Hosea
Volumes: 8
Pages: 2,086
Resource Type: Commentaries
Topic: Hosea
Individual Titles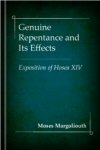 In this volume, respected Jewish Christian scholar Moses Margoliouth examines the concluding chapter of Hosea. Though Hosea is often called the prophet of doom, chapter 14 reveals a promise of redemption and restoration for God's people. These nine sermons examines Hosea's call to repentance and are informed by Margoliouth's expertise in Jewish tradition.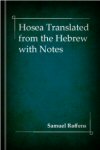 In this eighteenth-century English translation of Hosea, Anglican bishop Samuel Roffens provides detailed notes on his translation methods and provides expository notes based in the original Hebrew. This work also includes from Roffen on Christ's descent into hell.
Samuel Roffens was bishop of Rochester and dean of the Collegiate Church of Saint Peter in Westminster.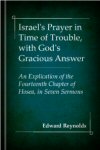 In this collection of seven sermons, British preacher and bishop of Norwich Edward Reynolds examines Hosea 14. Each sermon zooms in on just one or two verses in the chapter as Reynolds explores the redemptive message in the book's concluding chapter.
Edward Reynolds (1599–1676) was bishop of Norwich and a participant in the Westminster Assembly. He served as chaplain to Charles II after the Restoration in 1660.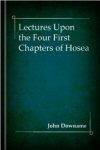 Lectures Upon the Four First Chapters of the Prophecies of Hosea
Author: John Downame
Publisher: W. Welby
Publication Date: 1608
Pages: 679
These lectures on Hosea feature timeless application from the seventeenth-century Anglican clergyman John Downame. Downame's work focuses on the opening narrative portions of Hosea, drawing out practical lessons for Christian living.
John Downame (1571–1652) was an English clergyman and theologian. He was an influential participant in the Westminster Assembly. He is also the author of The Christian Warfare, The Plea of the Poor: A Treatise of Beneficence and Alms-deeds, and Guide to Godliness: A Treatise of a Christian Life.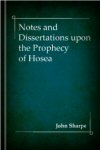 In this volume, English clergyman John Sharpe explore the life and writings of Hosea, and the spiritual climate he lived in. Sharpe provides background on the date and location of Hosea's writing, and explains the religious practices of Israel during Hosea's life. He also provides extensive verse-by-verse commentary on all fourteen chapters of Hosea.
John Sharpe was rector of Elmley Lovett in Worcestershire, England, and a fellow of Christ's College, Cambridge.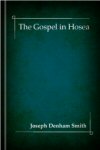 Hosea's marriage to Gomer is one of the Bible's most profound illustrations of God's love for Israel, and Christ's love for his people. In this volume, nineteenth-century English evangelist Joseph Denham Smith fleshes out the "line of gospel truth" that runs throughout Hosea. His commentary is driven by evangelical purpose, and presents the gospel as it appears in Hosea in clear and simple lines.
Joseph Denham Smith (1816–1889) was an English Congregationalist minister and hymn writer. He preached his first sermons when he was 16 years old, left the clergy at age 24 to devote his life to evangelizing.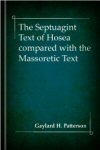 In his dissertation for the Yale University department of philosophy and the arts, Gaylard H. Patterson analyzes the Masoretic and Septuagint versions of Hosea. His chief question is whether the Septuagint text presents "variations in the translation which would not be allowed a translator," and if so, what caused these variations.
Gaylard H. Patterson was an early twentieth-century biblical scholar. He earned his PhD from Yale University and was dean of Willamette University in Salem, Oregon from 1907 to 1914.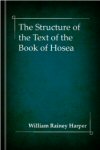 In this book, influential language scholar William Rainey Harper organizes Hosea into logical units and analyzes their structure. Harper also attempts to identify later additions to Hosea in an effort to present the original intent of the author.
William Rainey Harper (1856–1906) was one of America's leaders in academia in the late nineteenth and early twentieth centuries. He is the author of several works on the inductive method for language learning, as well as the commentary on Amos and Hosea in the International Critical Commentary series. Harper helped establish the University of Chicago and Bradley University, and he was the first president of both universities. He also helped establish the first departments of Egyptology and sociology in the United States, as well as the University of Chicago Press. Harper graduated from Yale in 1876. Several academic institutions are named after him, including William Rainey Harper College in Illinois.
Reviews
What other people are saying about Classic Commentaries and Studies on Hosea (8 vols.).