Lexicon Reformatting Dataset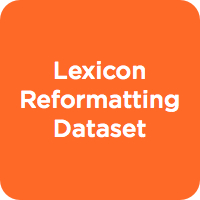 Easily read dense lexicon entries
Lexicon articles are notoriously difficult to read—filled with jargon, abbreviations, and odd formatting. We've created the Lexicon Reformatting Dataset to make top lexicons more user-friendly, providing the information you need, fast. Our team has tagged every entry in major lexicons—like BDAG, BDB, and HALOT—restructuring them into easy-to-read outlines. Just select the "outline formatting" option in the visual filters menu and Logos 6 consults this dataset and realigns the text. Lemma forms are justified and the nuances of meanings are indented, letting you search for a lemma then quickly scan the gloss options.
The Lexicon Reformatting Dataset . . .
Identifies lemmas, English glosses, and other information from tens of thousands of lexicon articles
Enables the "outline formatting" visual filter to realign difficult-to-read lexicon articles
Makes finding the information you need easier than ever
Product Details
Title: Lexicon Reformatting Dataset
Contributors: Chris Culy, Jeff Jackson, and Alan Palmer
Articles: 30,000+
Publisher: Lexham Press
Publication Date: 2014
Resource Type: Datasets
Reviews
What other people are saying about Lexicon Reformatting Dataset.