College Press Discipleship Collection (3 vols.)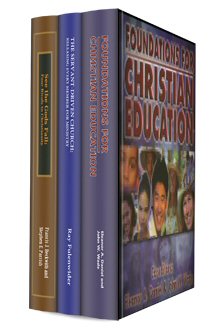 Overview
Pastors, teachers, and church leaders regularly suffer from stress and burnout—the emotional and spiritual toll of day-to-day ministry can overwhelm even the best efforts of those in leadership positions. The books in the College Press Discipleship Collection (3 Vols.) explore effective and Christ-centered discipleship, providing you with practical ideas that your church can use to encourage faithful service from all members and cultivate discipleship within your church. In these books, seasoned pastors and scholars offer practical ideas which your church can use to encourage fruitful discipleship.
This collection contains 3 volumes, and contributions from more than fifteen authors. In See the Gods Fall, Francis J. Beckwith and Stephen E. Parrish provide a powerful indictment against four popular religious systems contrary to Christianity, which undermine the work of the church and compromise effective ministry. The Servant-Driven Church outlines a blueprint for preparing and training the church's leaders at all levels. This collection also includes Foundations for Christian Education, a collection of essays from thirteen professional educators about the church's relationship to the growth and development of children. The College Press Discipleship Collection contains books for every aspect of your church's ministries. Study these books individually or as a group to discover what God has in store for your church!
Key Features
Contributions from 15 pastors and teachers
Helpful and practical advice
Indices and appendices to guide your reading
Individual Titles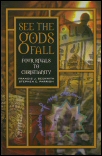 Why is traditional biblical refutation failing to convince those who reject traditional Christianity? Is there another way to reach people in New Age, secular humanism, Baha'ism, and Mormonism? Would it surprise you to know that these religions crumble under the weight of their own contradictory belief systems?
This book provides philosophical criticism of four major alternative religious systems whose ideas have been received by a great number of people worldwide. Authors Francis J. Beckwith and Stephen E. Parrish define critical thinking and show how it can be helpful in an analysis of alternative religious systems. In doing so, they equip readers with tools to encounter members of other faiths, and define the classical Christian view of God.
. . . Beckwith and Parrish have provided thinking Christians with an engaging, penetrating and enlightening analysis of Mormonism, secular humanism, Baha'ism, and the New Age movement.
—Norman Geisler, Dean of Southern Evangelical Seminary
. . . Beckwith and Parrish have given us the most rigorous, philosophically sophisticated response to key rivals to Christianity currently available. They have accomplished this while writing in a style that remains accessible to general readers.
—J. P. Moreland, Professor of Philosophy, Talbot School of Theology, Biola University; Associate Editor of the Apologetics Study Bible
This volume by Drs. Beckwith and Parrish differs on several fronts from the typical book on the cults and religions. Most notably, it is a philosophical critique, thereby showing that the four movements discussed are flawed on logical grounds, besides the biblical problems.
—Gary Habermas, Chairman, Department of Philosophy and Theology, Liberty University
Francis J. Beckwith is professor of philosophy and church-state studies, and codirector of the program in philosophical studies of religion in the Institute for Studies of Religion, at Baylor University in Waco, Texas. He is also a fellow at the Center for Bioethics and Human Dignity.
Stephen E. Parrish is Librarian and Assistant Professor in Philosophy at William Tyndale College in Farmington Hills, Michigan.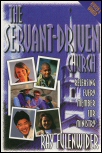 "A new command I give you: Love one another" (John 13:34). With these words Jesus gave us the foundation stone on which we are to build our life in obedience to him. But he did not just come down from heaven, issue this command, and leave; he gave us a lifetime of examples for daily living. Among these examples were clear and pointed teachings about serving each other.
This book is a blueprint for preparing and training the church's leaders, those already committed to service within the church, to establish the framework of organization which will allow every member to find a place of service and pursue it with a whole heart. When leaders have learned to be servants, they have become like the chief shepherd and servant, Jesus Christ. This servant spirit produces a servant-driven church which prospers spiritually and numerically.
Ray Fulenwider's new book, The Servant-Driven Church, distills the wisdom of his productive servant ministry across the years. He is widely respected as someone who knows how to broaden the base of a church's involvement in ministry. More opportunities for members will translate into effective outreach and growth. Reading this book will help you identify options for building a program of member involvement around the Christ-imitating model of servanthood.
—Rubel Shelly, minister
In too many churches, a few people sprint breathlessly, trying to keep all the ministers running, while members sit in the bleachers and cheer them on (or just yawn!). Ray Fulenwider, who writes from the front line of ministry, has a different, more biblical picture: of churches where all members enter the race, using their gifts and passions for Christ. He envisions communities of faith where every member is a minister and where 'the priesthood of all believers' is actually lived out.
—Mike Cope, minister
A number of years ago I witnessed Ray Fulenwider, rushing to teach a class one Wednesday night at his church. He stopped abruptly, got down on his hands and knees and cleaned up the unhappy results from a sick child—while dozens of able bodied adults stood by and watched. This is a man who walks his talk regarding servant leadership in the church—read carefully!
—Byron Williamson, President, NelsonWord Publishing
Ray Fulenwider is the Minister of Administration and Church Coordinator for the Spring Woodlands Church of Christ in Houston, Texas. From 1991 to 2000 Ray Fulenwider served as the Minister of Education and Involvement, Staff Coordinator, and Office Manager at Central Church of Christ in Amarillo, Texas. He earned his B.S.E. and M.S.E. degrees from Abilene Christian University and has done graduate studies in New York, Tennessee, and Texas. He received an administration degree and counselors license from Texas Tech.

Foundations for Christian Education will help place your congregation on a solid footing. This book is divided into three sections. First, the contributors explore foundation stones, the history of education concerning spiritual matters found in the Bible, plus perspectives on education from secular fields of study. The middle section of the book deals with teaching in a manner that students will understand, as well as learning how to be effective teachers and encountering students with special needs.
Contributors to Foundations for Christian Education include:
Virginia Beddow, Manhattan Christian College
Rick Chromey, Saint Louis Christian College
Eleanor A. Daniel, Emmanuel School of Religion
James R. Estep, Great Lakes Christian College
Kendall S. Greene, Minnesota Bible College
Alvin Kuest, Great Lakes Christian College
Ron Oakes, Saint Louis Christian College
Sherry Y. Parrott, Ozark Christian College
Ruth Picker, Minnesota Bible College
Jim Pierson, Director of the Christian Church Foundation for the Handicapped
J. Michael Shannon, First Christian Church & Milligan College
Chris Templar, Johnson Bible College
John W. Wade, Atlanta Christian College
[Foundations for Christian Education] deserves a wide readership among Christians concerned for and called to teaching the Christian faith.
—Dr. Robert W. Pazmino, Professor of Christian Education, Andover Newton Theological School
This is a valuable contribution to the field of Christian education.
—Warren S. Benson, Ph.D., Vice President of Professional Doctoral Programs, Professor of Christian Education, Trinity Evangelical Divinity School
Eleanor A. Daniel is Dorothy Keister Walker Professor of Christian Education and Director of Institutional Research at Emmanuel School of Religion. She is a nationally known specialist in Christian education. In addition to authoring several books, Dr. Daniel has contributed chapters to several books and written many articles on Christian education and related topics. Along with her distinguished teaching career at college and seminary level, she has nineteen years of experience serving congregations in Ohio, Oklahoma, Michigan, and Illinois as minister of education.
John W. Wade is a professor at Atlanta Christian College.
Product Details
Title: College Press Discipleship Collection
Publisher: College Press
Volumes: 3
Reviews
What other people are saying about College Press Discipleship Collection (3 vols.).