Dogmatic Theology (12 vols.)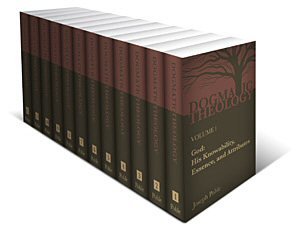 Overview
In his mammoth 12-volume Dogmatic Theology, Joseph Pohle crafted one of the clearest and most succinct systems of Roman Catholic theology at the turn of the 20th century. As a member of the founding faculty of the Catholic University in America and a frequent contributor to the Catholic Encyclopedia, Pohle offered a unique—and important—Catholic perspective for theological scholarship in America. Pohle interacts with the vast corpus of theological literature from the history of the church, and uses both Scripture and tradition to make his case. Each volume is clearly outlined, making his argument easy to follow and his positions quick to identify.
Joseph Pohle's Dogmatic Theology contains volumes on the doctrine of God, the doctrine of creation, Christology, and Trinitarian theology, along with his 4-volume work on the sacraments. Both Catholics and Protestants will find this massive work indispensable for its clear exposition of all loci of Christian theology. What's more, with the power of your digital library, Pohle's entire 12-volume Dogmatic Theology is fully searchable and easily accessible. Scripture references are linked to your favorite Bible translations and original language texts (if you own them), and important theological concepts are linked to dictionaries, encyclopedias, and a wealth of other resources in your digital library.
Key Features
Detailed footnotes and bibliographical material
Each volume contains a detailed topical index
All Scripture references linked to Greek texts and English translations in your digital library (if you own them)
Links to other resources in your digital library, such as the Summa Theologica by Thomas Aquinas and Migne's Patrologia Graeca.
Product Details
Title: Dogmatic Theology
Publisher: B. Herder
Author/Editor: Joseph Pohle
Volumes: 12
Pages: 3,670
Individual Titles
About Joseph Pohle
Joseph Pohle was born in 1852. He studied in Trier, Rome, and was ordained as a priest in 1878. He served as a professor in Baar, Switzerland from 1881 to 1883, as professor at St. Joseph's College in Leeds, England from 1883 to 1886, and as professor of philosophy in Fulda from 1886 to 1889. In 1889, he moved to America to teach at the newly-founded Catholic University. Pohle returned to Europe in 1894, teaching at Münster and then Breslau, where he served as professor of dogma, and wrote his Dogmatic Theology. He was also a frequent contributor to the Catholic Encyclopedia. He died in 1922.
Reviews
What other people are saying about Dogmatic Theology (12 vols.).