Near Eastern History Collection (9 vols.)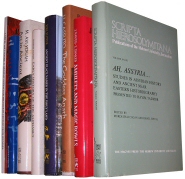 Overview
This comprehensive collection of primary texts and secondary literature assembles the best in Near Eastern scholarship from professors at The Hebrew University in Jerusalem. Combining primary texts, English translations, and expert commentary and analysis, the 9-volume Near Eastern History Collection brings the latest scholarship to bear on the history, geography, and culture of the birthplace of civilization. These important books from Magnes Press include textual artifacts and translations of Ugaritic literature, Aramaic ostraca, and Aramaic amulets, along with translation and commentary. This collection also contains penetrating studies of place-names, a fascinating history of the alphabet, and a complete introduction to art in Ancient Palestine. It also includes a volume of over thirty essays, whose topics span the entire range of Near Eastern history from Sumer to the Persian Empire.
What's more, with the Logos Bible Software edition, the thousands of pages of primary texts and secondary literature is fully integrated with the rest of your digital library. Links to original language texts, dictionaries, and other historical documents—such as the Amarna Letters—are only a click away! The Near Eastern History Collection is an important addition to the libraries of Old Testament and Near Eastern scholars, and is ideal for anyone looking to understand more deeply the historical and cultural context of the Old Testament.
Key Features
Hundreds of images and photographs of texts, artifacts, and works of art
Useful charts and diagrams
Maps and geographical illustrations with detailed explanations
Product Details
Title: Near Eastern History Collection
Volumes: 9
Pages: 2,643
Individual Titles
Reviews
What other people are saying about Near Eastern History Collection (9 vols.).