Approved unto God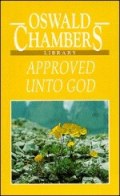 Marshall, Morgan & Scott
, 1996
Overview
Oswald Chambers draws from the treasure-house of scripture, invaluable advice and encouragement for Christian workers. These "talks" lead us in the way of becoming competent servants of Jesus Christ, spiritually fit and mentally fitted, for the great task entrusted to us. Do not read this book unless you mean business, but if you do you will find wisdom and understanding on every page.
Product Details
Title: Approved unto God
Author: Oswald Chambers
Publisher: Marshall, Morgan & Scott
Publication Date: 1996
Reviews
What other people are saying about Approved unto God.