Baffled to Fight Better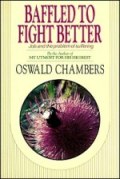 Marshall, Morgan & Scott
, 1972
Overview
Job was righteous, but Job suffered. Oswald Chambers reminds us that Job's calamities taught him to see God, for the first time in his life, as the only sure refuge. Job discovered that in life's extremes, God is enough. So can you.
Product Details
Title: Baffled to Fight Better
Author: Oswald Chambers
Publisher: Marshall, Morgan & Scott
Publication Date: 2001
Reviews
What other people are saying about Baffled to Fight Better.