Bringing Sons into Glory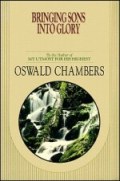 Marshall, Morgan & Scott
, 1996
Overview
Chambers explores the value of spiritual discipline and shows how the Christian experience is not only a thing that we can work out but a matter that God works in. Your enriched insight into Jesus' life and mission will help you understand and appreciate your own life in Christ and your eternal destiny with Him.
Product Details
Title: Bringing Sons into Glory
Author: Oswald Chambers
Publisher: Marshall, Morgan & Scott
Publication Date: 1996
Reviews
What other people are saying about Bringing Sons into Glory.