Handbook To Renewal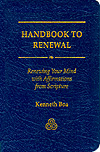 Overview
Many of the affirmations in Handbook to Renewal are expressed as desires: you will be affirming that these are the things you want to be true in your life. Using this book on a regular basis will be a faith-building exercise that will make these affirmations increasingly real in your life. Ken Boa's books offer a rich resource of thought provoking ideas for lesson preparation.
Product Details
Title: Handbook to Renewal
Author: Kenneth Boa
Publisher: Trinity
Publication Date: 1996
Reviews
What other people are saying about Handbook To Renewal.