The Highest Good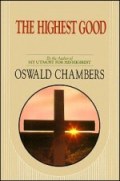 Marshall, Morgan & Scott
, 1965
Overview
Oswald Chambers helps you understand the shadows of life through the lens of the Psalms, the Gospels, and Paul's letters. You'll learn to move beyond discouragement and fear to a deepened faith in God.
Product Details
Title: The Highest Good
Author: Oswald Chambers
Publisher: Marshall, Morgan & Scott
Publication Date: 1996
Reviews
What other people are saying about The Highest Good.