Our Brilliant Heritage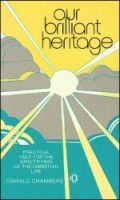 Marshall, Morgan & Scott
, 1965
Overview
Originally published as a series of articles in the 1920s, this collection from one of Christianity's greatest thinkers will spur you on toward greater faith and confidence in Christ. Full of practical encouragement and solid theology, Our Brilliant Heritage contains such topics as "You Need Not Sin," "Make a Habit of Having No Habits," and, "Pull Yourself Together": .
Product Details
Title: Our Brilliant Heritage
Author: Oswald Chambers
Publisher: Marshall, Morgan & Scott
Publication Date: 1929
Reviews
What other people are saying about Our Brilliant Heritage.