A Passion for Faithfulness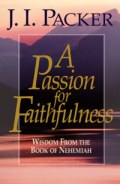 Overview
In this excellent study, Packer takes an enlightening and lively look at the book of Nehemiah, gleaning from this man's life key principles of leadership, decision-making, obedience, and godliness that leaders need today. A Passion for Faithfulness also reveals God's great love for His people then, and His ongoing love for His church now. Through this great leader's life, Christians in every sector are given a prescription for today's ailing church.
Product Details
Title: A Passion For Faithfulness
Author: J.I. Packer
Publisher: Crossway
Publication Date: 1995
Reviews
What other people are saying about A Passion for Faithfulness.