The Philosophy Of Sin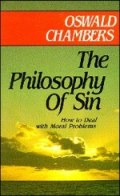 Marshall, Morgan & Scott
, 1937
Overview
This book deals with the practical moral problems that every man must face, no less the Christian than the pagan. The emphasis on Sin is set against the reality of Redemption. "If sin is a radical twist with a supernatural originator, salvation is a radical re-adjustment with a supernatural Originator" ... "It is only the right view of sin and right thinking about sin that ever will explain Jesus Christ's life and death and resurrection."
Product Details
Title: The Philosophy Of Sin
Author: Oswald Chambers
Publisher: Marshall, Morgan & Scott
Publication Date: 1996
Reviews
What other people are saying about The Philosophy Of Sin.