Shade Of His Hand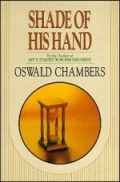 Marshall, Morgan & Scott
, 1936
Overview
These lectures on Ecclesiastes were the last message spoken by Oswald Chambers to the British troops in Egypt during World War I. Shortly after these lectures he died on November 15, 1917.
Product Details
Title: Shade Of His Hand
Author: Oswald Chambers
Publisher: Marshall, Morgan & Scott
Publication Date: 1936, 1996
Reviews
What other people are saying about Shade Of His Hand.