The Soul Of Science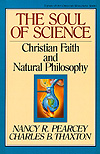 Overview
This book surveys the development of science so that Christians may gain an understanding of its historical progression in light of their faith. It looks at science in its formative stages when Christianity was the backdrop to virtually all scientific discussion and then explores the key controversies that over the years have changed the face of science, including past revolutions in math and physics, and the biological revolution that is currently underway.
Product Details
Title: The Soul Of Science
Authors: Nancy Pearcey, Charles B. Thaxton
Publisher: Crossway Books
Publication Date: 1994
Pages: 286
Reviews
What other people are saying about The Soul Of Science.