Studies In Genesis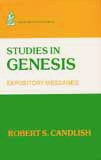 Overview
These conservative, expository messages are rich in devotional emphasis and contain many theological discussions of special value to all students of the Word. All the major events of Genesis are expounded to bring out the doctrine of grace. Thoughts and observations are expressed with a simplicity and economy of language seldom mastered. C.H. Spurgeon says, "We characterize this as THE work on Genesis ... It should be in every biblical library."
Product Details
Title: Studies In Genesis
Author: Robert S. Candlish
Publisher: A. & C. Black
Publication Date: 1868
Reviews
What other people are saying about Studies In Genesis.