Synonyms of the Old Testament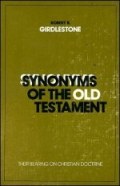 Overview
This standard work on the Hebrew synonyms of the Old Testament is unique in its field and has served as a handbook for theological students for more than a century. The studies are topical in nature, dealing with the leading topics of religious thought. By means of the Septuagint, the author explains the relation of corresponding words used in the New Testament. The Scripture is at all times regarded as "trustworthy and authoritative documents which are Divine in origin, though Human in expression." The author's aim was to supply a concise reference for the busy reader and a volume that would be of real value to the beginner in Hebrew to help them study Christian doctrine in the light of OT terminology.
Product Details
Title: Synonyms of the Old Testament
Author: Robert Baker Girdlestone
Publisher: Eerdmans
Publication Date: 1897
Pages: 319
Reviews
What other people are saying about Synonyms of the Old Testament.