Workmen Of God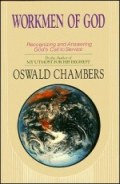 Marshall, Morgan & Scott
, 1937
Overview
Workmen of God offers a challenging approach to spiritual discernment and diagnosis. Pastors, missionaries, and those who want to know more about ministering to the spiritual needs of people will find timeless insights in Chambers' teaching. Taken from his lectures, this material shows how godly Christians can work for the cure of souls with passion and power.
Product Details
Title: Workmen Of God
Author: Oswald Chambers
Publisher: Marshall, Morgan & Scott
Publication Date: 1937, 1996
Reviews
What other people are saying about Workmen Of God.