Our Sufficiency in Christ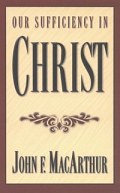 Overview
MacArthur asserts that the church's growing infatuation with psychology, show-business techniques and extreme mysticism has left it tacitly acquiescing to the notion that Christ alone is simply not sufficient to meet people's real needs. In this landmark book he asserts that authentic Christ-centeredness is being abandoned for popular, market-driven concepts and methods guaranteed to swell numbers and fill coffers. With refreshing candor, MacArthur calls for a new generation of Christians with the courage to confront a disturbing mind-set that is taking the church by storm.
Product Details
Title: Our Sufficiency in Christ
Author: John MacArthur, Jr.
Publisher: Word Publishing
Publication Date: 1997
Pages: 264
Reviews
What other people are saying about Our Sufficiency in Christ.