The Five Books of Moses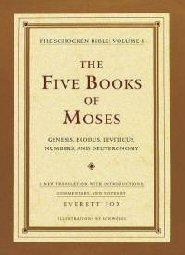 Overview
This translation is a stunning achievement—to read it is to hear the Bible as if for the first time. While all other English translations of the Bible attempt to render its language as if it had been written in English, this new translation reveals the full force of the Bible's original rhetoric and poetry—the rhythm, nuances, and stylistic devices that are particular to Hebrew and essential to the Bible's true message and to the spiritual and aesthetic power of its art. Beautifully designed and augmented by extensive commentary and notes, the publication of The Five Books of Moses has already been heralded by scholars, writers, and theologians of every faith. It is a religious, scholarly, literary, and publishing event of the highest order.
Product Details
Title: The Five Books of Moses
Author: Everett Fox
Publisher: Schocken
Publication Date: 1995
Reviews
What other people are saying about The Five Books of Moses.