The College Press NIV Commentary: 1, 2 Timothy & Titus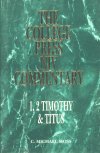 Overview
While several passages in 1 and 2 Timothy and Titus have provided the fodder for tomes of theological discussion (e.g., 1 Tim 2:9-15 and the role of women; 1 Tim 3:11 and deacons; 1 Tim 3:1-8 and Titus 1:6-9 and the characteristics of those to serve as elders), the real value of these epistles lies in their message to two young ministers, to second generation believers in Ephesus and to a young church facing a pagan world in Crete. These epistles provide teaching which the church in the twentieth and twenty-first centuries needs to hear. The two letters to Timothy and the letter to Titus stand in a very close relationship to one another. They are written to fellow workers of the Apostle Paul; they are bound together by similar content; the false teachers who bear similar characteristics, a discussion of church leaders, similar situations for the churches addressed, and the same basic time-frame. Although the term "the Pastoral Epistles" has become a convenient designation for these three epistles which have much in common, it can be misleading. These epistles are not really a manual of pastoral theology. Only a fraction of these books contain what could be termed ecclesiastical teaching (1 Tim 3:1-13; 5:3-22; Titus 1:5-9). The three epistles are very different. Viewed as a whole, the epistles provide insight into ministry, enduring hardship, and understanding the essentiality of good works.
Product Details
Title: The College Press NIV Commentary: 1, 2 Timothy & Titus
Author: C. Michael Moss
Publisher: College Press
Publication Date: 1994
Reviews
What other people are saying about The College Press NIV Commentary: 1, 2 Timothy & Titus.