The College Press NIV Commentary: Acts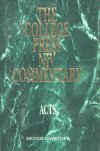 Overview
The book of Acts is pivotal not only in our understanding of the events which established the Church of Jesus Christ, but also for providing a connecting link between the four Gospels and the Epistles of the New Testament. Without this record our knowledge of how the message of Jesus Christ came to be a missionary plea to the whole world would be severely weakened. Acts opens with a statement from Jesus which seems to set the tone for the entire work. Jesus promises the Apostles that they will receive power in the form of the Holy Spirit. He then tells them that they will be his "witnesses in Jerusalem, and in all Judea and Samaria, and to the ends of the earth" (NIV). This theme of being a witness for the Gospel is carried throughout the book of Acts. As the witnesses for Christ carried the Gospel toward the far reaches of the world, the church advanced everywhere. This theme is also important in Acts. The expansion of the church is presented in a historical context. While Acts emphasizes the power of the Spirit (1:8), it also emphasizes how they used this power. They faithfully bore witness for Christ. In this commentary our approach is to appreciate the theological motivations of Luke's work while not rejecting this record as the most valuable source we have regarding the developing church. Our confidence does not rest entirely on the fact that Luke's abilities as a historian have the promise of the Lord to direct his servant into all truth.
Product Details
Title: The College Press NIV Commentary: Acts
Author: Dennis Gaertner
Publisher: College Press
Publication Date: 1993
Reviews
What other people are saying about The College Press NIV Commentary: Acts.