The College Press NIV Commentary: Hebrews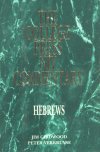 Overview
The exalted character of the Son of God is the theme and dynamic of this pivotal book of the New Testament. Jesus is the heir of all things; He is the Creator and also Reflector of God's glory. He has the stamp of God's nature, He upholds the universe with his power, and He is seated at the right hand of God. Do you want to understand the work of our Lord? Do you want to see how His qualities shine as the noonday sun? Do you desire to know what He is really like and the magnitude of what He has done, is doing, and what He will bring to pass? Here in the book of Hebrews, these things are clearly viewed. Jesus is both the fulfillment of the old covenant and the inaugurator of the new covenant. What the covenants mean and how they operate is fundamental to theological clarity. Hebrews is where the old and new covenants are fully discussed. Two very capable navigators will lead you through the text, pausing to point out the highlights, explaining some of the difficulties and leading you to a deeper appreciation and understanding of who Jesus is as revealed in the book of Hebrews.
Product Details
Title: The College Press NIV Commentary: Hebrews
Authors: James Girdwood, Peter Verkruyse
Publisher: College Press
Publication Date: 1997
Reviews
What other people are saying about The College Press NIV Commentary: Hebrews.